by Marilyn Becker

Style, technique, and imagery are the ingredients that beautiful watercolor works are made of, and Joan Furia Klutch, a professional in the fine art of the medium for the past 20 years, is a master of all three. Her inspired images evoke a symbiotic relationship with nature, a marriage of landscape and vision, that enables the artist to use nature's most elegant palette and views with advantage. Ms. Klutch's paintings shift from pin-point perspectives to intimate close-ups of the Hamptons, New York, where she lives and works. The delicacy of her line and color are derived from the natural world and has evolved from a more traditional style to semi-abstractions that heighten landscape forms.
Mashomack Morn, 29" by 37", is an almost double image. The spit of land between the water and sky has the solidity of a rocky beach, but also an air of impermanence. The land's end, embraced by the closeness of the atmosphere and water, seems about to be swallowed by fog, or other natural causes. It has the energy of endless walks in the long diagonal thrust of the strip that goes beyond the visual field, and the quiet of having captured a moment in time when sea and sky are a reflection of each other.
In other works, such as Spring Illusion, 29" by 37", Ms. Klutch's semi-abstraction of flowers and bottles, and the transparency of the watercolor technique, enhances her use of the background as an ambiguous field. Her space is hierarchical in that the most important forms take precedence by position, rather than by perspective, resulting in abstract relationships. Intermezzo, 29" by 37", is a watercolor and collage close up of branches that seem heavily laden with snow. The work is so close to the surface that you feel the shiver of brushing against snow that dampens your face and falls down the back of your collar.
Ms. Klutch comes from an artistic family of musicians and artists. Although influenced by several artists, her loyalties have stayed with Paul Klee, Georgia O'Keefe, and Winslow Homer. She holds a BFA, magna cum laude from Long Island University, Southampton, NY and attended the National Academy School of Fine arts, the Art Students League, and Pratt Graphic Center for postgraduate work.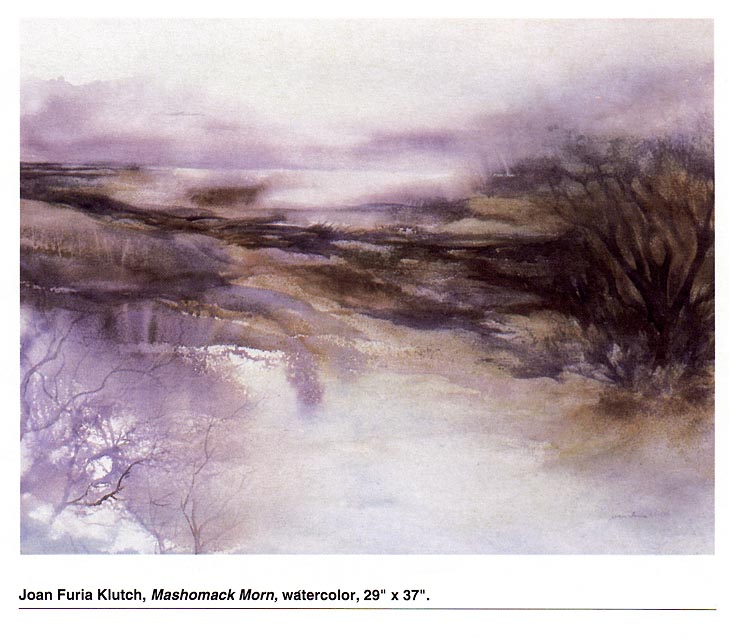 Her talent has been acknowledged with several awards, among them a Presidential Merit Scholarship. She received Honorable Mention, National Arts Club, 83rd Annual Open Watercolor Exhibition, and was a recipient of an American Watercolor Society Scholarship, National Academy School of Fine Arts.
Solo exhibitions include shows at the Fine Arts Gallery, LIU, the Design Studio, and Studio Connection in Southampton, NY. Her work was selected for the American Watercolor Society 118th Annual Exhibition at the Canton Art Institute, Ohio, and the American Watercolor Society 116th Annual Exhibition at the Salmagundi Club, New York, which traveled to twelve different museums around the country. Ms. Klutch is affiliated with Wild Plum Gallery in Sag Harbor, NY, and Island Artists Gallery, in Greenport, NY, among others. She will have a one person show, "New Works: Environmental Landscapes, Watercolors, and Collages," at Island Artists Gallery in August.
Ms. Klutch has been a guest artist at the Parish Art Museum and Master Art Workshop, LIU; teaches watercolor workshops from Hampton Knoll Studio, East Hampton, NY, and was an adjunct professor at LIU, Southampton. She is a signature member of the American Watercolor Society.